---
Hello, and welcome to my page. On this page you will find many different water safety tips. Whether youíre going to a pool, on a boat, to the cottage, or even to the beach, you need to always keep these tips in mind, to keep you, and the ones closest to you, safe.
The Most IMPORTANT Tip of them ALL:

Learn to swim
. The best thing anyone can do to stay safe in and around the water is to learn to swim--this includes adults and children. Your local red cross or similar organization should have courses available.
---
Home Pool Water Safety Tips:
If a child is missing, check the pool first. Go to the edge of the pool and scan the entire pool, bottom and surface, as well as the surrounding pool area.
Never
leave a child unobserved around water. Your eyes must be on the child at all times. Adult supervision is recommended.
Enclose pool completely with a self-locking, self-closing fence with vertical bars. Openings in the fence should be no more than four inches wide. If the house is part of the barrier, the doors leading from the house to the pool should remain locked and be protected with an alarm that produces sounds when the door is unexpectedly opened.
Never leave furniture near the fence that would enable a child to climb over the fence.
Keep toys away from the pool when it is not in use. Toys can attract young children into the pool.
Always keep basic lifesaving equipment by the pool and know how to use it. Pole, rope and personal flotation devices (PFDs) are recommended.
Pool covers should always be completely removed prior to pool use.
Install a phone by the pool or keep a cordless phone nearby so that you can call 9-1-1 in an emergency.
Learn CPR and insist that babysitters, grandparents, and others who care for your child know CPR.
Post CPR instructions and 9-1-1 or your local emergency number in the pool area.
---
Local Pool Water Safety Tips:
Be sure the area is well supervised by lifeguards before you or others in your group enter the water.
Read all posted signs. Follow the rules and directions given by lifeguards. Ask questions if you are not sure about a correct procedure.
When you go from one attraction to another, note that the water depth may be different and that the attraction should be used in a different way.
Before you start down a water slide, get in the correct position -- face up and feet first.
Some facilities provide life jackets at no charge. If you cannot swim, wear a Coast Guard-approved life jacket. Check others in your group as well.
---
Beach Water Safety Tips:
Select a supervised area. A trained lifeguard who can help in an emergency is the best safety factor. Even good swimmers can have an unexpected medical emergency in the water.
Select an area that has good water quality and safe natural conditions. Murky water, hidden underwater objects, unexpected drop-offs, and aquatic plant life are hazards. Water pollution can cause health problems for swimmers. Strong tides, big waves, and currents can turn an event that began as fun into a tragedy.
Stay within the designated swimming area, ideally within the visibility of a lifeguard.
Stay away from piers, pilings, and diving platforms when in the water.
Keep a lookout for aquatic life. Water plants and animals may be dangerous. Avoid patches of plants. Leave animals alone.
Make sure you always have enough energy to swim back to shore.
Donít try to swim against a current if caught in one. Swim gradually out of the current, by swimming across it.
---
Tips for When Boating:
Alcohol and boating don't mix. Alcohol impairs your judgment, balance, and coordination -- over 50 percent of drownings result from boating incidents involving alcohol. For the same reasons it is dangerous to operate an automobile while under the influence of alcohol, people should not operate a boat while drinking alcohol.
Look for the label: Use Coast Guard-approved life jackets for yourself and your passengers when boating and fishing.
Develop a float plan. Anytime you go out in a boat, give a responsible person details about where you will be and how long you will be gone. This is important because if the boat is delayed because of an emergency, becomes lost, or encounters other problems, you want help to be able to reach you.
Find a boating course in your area -- these courses teach about navigation rules, emergency procedures and the effects of wind, water conditions, and weather.
Watch the weather: Know local weather conditions and prepare for electrical storms. Watch local news programs. Stop boating as soon as you see or hear a storm.
---
There are many more very important water safety tips out there, and for more information, contact your local Red Cross, Canadian Lifesaving Society, or even your local recreational pool.
---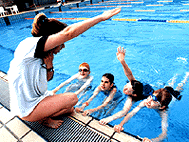 FOR MORE INFORMATION:
The Canadian Red Cross Ė Ontario Division
http://www.redcross.ca/province/Ontario/main.htm
*More Links to Come*
Kimberley Day 1999
Some information c/o the Red Cross